Galley kitchens get a bad rap. Perhaps it's their association with inadequate storage, cluttered countertops, depressing lighting or a bulky fridge that mucks up any hope of a clean-lined space. But forget all that — these five stylish galleys will banish those impressions. And if you're dealing with...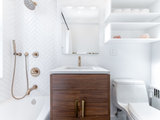 After moving in to their two-bedroom prewar co-op apartment in Queens, New York, Eric Alarcon and Niurka Maldonado desperately wanted to renovate the two bathrooms. The decades-old black-and-white tile with depictions of birds and vines were a particular pain point, as were the ancient toilets....
This article is from our Most Popular stories file.<br forbidden_style="box-sizing: border-box; margin: 0px; padding: 0px; color: rgb(51, 51, 51); font-family: proxima-nova, "Helvetica Neue", Helvetica, Arial, sans-serif; font-size:...
Today, Feb. 18, is the birthday of the great American architect Paul Revere Williams, who designed for the stars during the Golden Age of Hollywood. For much of his career, Williams was not allowed to live in many of the neighborhoods where he designed for his clients — because he was African-American....
Unlike interior colors, exterior hues can affect the entire street — and that puts a lot of pressure on homeowners when it comes to choosing a palette. In addition, a number of factors come into play that you don't have to deal with on the inside of a house: landscaping, hardscaping, roofing and more....
Wondering if it's time to hire a homebuilder? Some builders work on custom homes with individual clients in collaboration with the homeowner's architect, while others are also developers, purchasing land and creating communities of customizable homes. If you're thinking of building a home or undertaking...