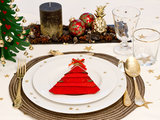 Need some easy ideas for a festive table setting? Looking for that little creative extra to impress your guests? In this tutorial, we present three ways to fold napkins into Christmas trees. We used paper napkins, but these techniques work just as well with cloth ones.Get a 30-second preview...
We've rounded up some favorite last-minute holiday decorating ideas on Houzz that can be completed almost as quickly as you can hum "Deck the Halls." Take a look at these 14 easy and creative decorations for doorways, mantels, sideboards, dining tables and more that all take minutes, not hours, to put...
This Trending Now series features the most-saved photos uploaded to Houzz in 2018.Calming, soothing, relaxing, serene — this is how we want our bedrooms to feel. But how do you get there? This countdown to the 10 most popular bedroom photos uploaded to Houzz in...
Embracing white in winter may feel a bit counterintuitive. Aren't warm tones and bright holiday hues just the cheerful color hits we need in the dark season? But white can feel refreshingly clean and bright this time of year, as Scandinavian...
Contemporary and geometric. Modern and metallic. Traditional and blingy. Pendant lights and chandeliers perfect for the dining room run the gamut of styles, shapes and materials. Which of these statement-making lights do you like best? Tell us in the Comments.
If you love to entertain at home, think about how to optimize your kitchen design with seating, lighting and other key elements to help ensure that guests feel comfortable and relaxed, and that you can easily set up the space, cook up a feast and clean up afterward.
This Trending Now series features the most-saved photos uploaded to Houzz in 2018.The most popular entry photos uploaded to Houzz in 2018 indicate that homeowners' love affair with neutral colors and shiplap walls is still going strong, and that wood...