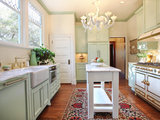 Islands are workhorses in the kitchen. They offer an additional surface area, apart from the perimeter countertops, that can be used for food prep, serving or as a place to perch and hang out with family and friends. Those with space-challenged kitchens often think there's no way they can squeeze in...
Nothing beats cafe-style string lights for their ability to quickly improve the ambiance in an outdoor space. In the evening, their soft glow overhead can visually transform an ordinary patio into a party-ready spot for hosting friends or cheer up a dim walkway with an inviting luminescence....
In a compact yard, it can be tricky to provide sunny and shaded spots, but there are ways to do it. Take a look at these seven gorgeous examples to see how to create a cool-off zone in your own little outdoor space.
After retiring, this couple swapped their cottage in Manhattan Beach, California, for a new contemporary home in the hills of Eugene, Oregon. They had admired one of the homes of Jordan Iverson, a designer and design-build-firm owner, and wanted him to craft something similar for them. They were drawn...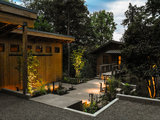 Set on a steep hillside overlooking the Willamette River, this elegantly rustic home and landscape are poised between forest and waterway, drawing design inspiration from both environments. Cedar cladding camouflages the house, set among a grove of mature fir trees and with a woodland entry garden fed...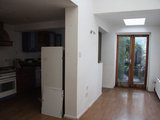 Interior designer Yoko Kloeden's expanded cottage accommodated her family of four, but when four became five, upsizing was imperative. They moved to a semidetached Victorian house in London that wasn't in great shape — the exterior was covered with ivy, and the interior was a patchwork of DIY efforts....
Since most people consider their kitchen the hub of the home these days, it makes sense to create an inviting, comfortable design. That feeling doesn't always come easily with an all-white color scheme, which some people find a little cold and sterile if not done right. But if you incorporate rich woods...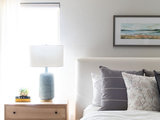 After husband-and-wife doctors fell in love with and moved into a midcentury-style house along a golf course in the scenic Quail Creek neighborhood of Oklahoma City, they immediately began adding their personality to most of the property. But as busy professionals with a toddler, a newborn and a dog,...