The bathroom vanity is a special part of the home, but one that can sometimes get overlooked. In a primary bathroom, it can be the central hub for many important parts of our self-care and the true workhorse for some of our daily routines. For this reason, bathroom vanities need carefully selected lighting...
The occasional glimpse of a hummingbird or butterfly stopping by for a drink is one of the many reasons people enjoy a garden in flower. But what if you have little or no room to plant a garden, let alone one that attracts butterflies or hummingbirds? Even if your garden space is limited to a...
These Southern California homeowners hired interior designer Heather Bull to lighten up their dark and dated bathroom. "These clients are young and fun," the designer says. "I could also see from things they had around the house, such as a vintage camera collection, that they liked style that was a little...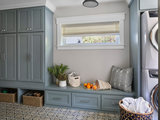 This Trending Now story features the most-saved laundry room photos uploaded to Houzz since Jan. 1, 2021.A laundry room should work hard for you and also be a place you don't dread going into. To create this kind of functional and inviting space, designers integrate useful features such...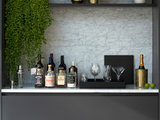 In this episode of Houzz TV Live, associate editor Bryan Anthony shares some of his favorite design ideas from the most popular home bars of the year so far. See how the right cabinet paint, countertop material and accessories can serve up serious style and fun at home.
There are many reasons to consider incorporating sustainability into the design and construction of your home. Not only can you help reduce your environmental impact, but you can also reap financial benefits as well as improved comfort in your home. In time...
Environmental challenges can sometimes feel insurmountable, but sustainable development doesn't stand still. While we still have a long way to go, there have been a lot of environmentally friendly developments in architecture and construction. "In my opinion, sustainability...
A porch can create an inviting, sheltered transition between your yard and indoor living spaces — expanding the use and enjoyment of your home and enhancing architectural interest. Adding features such as a fireplace, screens or ceiling fans not only improves the comfort of a porch, they can also extend...
"Slow living" is no longer a novel concept. Having first appeared a decade ago as an antidote to the stress of busy daily life, it's now established itself as a major trend. We talked to professionals in a variety of sectors — architecture, interior and garden design, ceramics and life coaching — about...